EYE BOLTS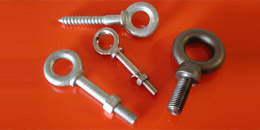 An eye bolt is a screw with a loop on one end and threads on the other end. Eye bolts are commonly used to attach cables to objects.
Machinery eye bolts are fully threaded and may have a collar, making them suitable for use with angular loads up to 45?.
Eye bolts made by bending a rod or wire into a loop are only suitable for light duty applications, as heavy loads can cause the eye to open. For high loads, eye bolts with forged or welded loops should be chosen, as they can withstand loads up to the tensile strength of the material of which they are made.
Type
Open End Closed End Welded End J-Type Hook
Size
Nom Dia:M6-M52 & similar Inch sizes. *Tailor made if required. Length : As Per Standard or Upto any Length..
Specifisation / Standard
ASTM / ASME / BS / DIN / BS EN ISO
Material
C.S., M.S., Alloy Steel, Ferritic & Austenitic Stainless Steel
Threades
UNC, 8UN, UNF, Metric Coarse & Fine Series
Surface Finish
Self Color, Hot Dip Galvanized, Electro Galvanized, Di-Chromated, P.T.F.E. Coated or any other as per order requirement